Article from The Riviera Times June 2006
Holiday homes at your fingertips
The BCC member jml Property Services was established in 1979 and since 2001 has been marketing holiday homes in the South of France and Destinantions around Europe.
One of the key features of its service is a detailed easy-to-use website jmlvillas.com. According to Philip Suter, the website has proved to be a very low cost and effective way of advertising holiday rental property and is promoted in specialist travel and holiday magazines.
The company has also developed a very progessive online insurance business called jml-insurance. selling car rental excess policies.
It has recently moved into property insurance designed for second home and main residences in France and other European locations.
Their latest product is a type of travel insurance to cover holiday home owners in the event that they have to get to their properties in an emergenct. The policy costs around 75 plus insurance premium tax and is taken out with the company travel4holidayhomes.com (payment in English pounds). It covers the holder plus one other person for flight expenses up to some 1,300 and also accommodation and personal expenses up to circa 1,700.
A third string to the bow of this innovative group is jml Training and Consultancy. It works in association with Midas Training Solutions who are also members of the BCC. Midas' training division covers customer care, excecutive coaching, plus much more. It works with the public and private sector in the UK, also with French and Monaco companies and inrternationally.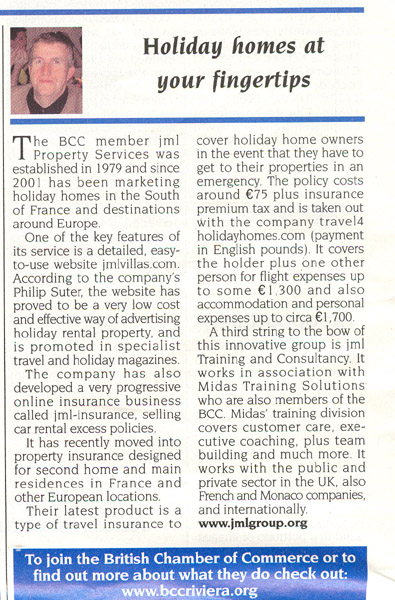 Find jml on twitter
jml Insurance | insurance4carrental

Find jml on facebook
_______________________________