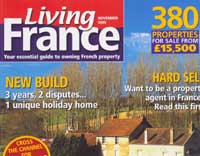 Article from Living France Magazine le bulletin November 2005
Net threat to gîte owners
Owners of holiday homes in France are among the latest people to be targeted by internet fraudsters. Philip Suter of jml Property Services says many advertisers on www.jmlvillas.com have been sent bogus enquiries over the past few months, with over 600 bogus enquiries from the website on 29 July 2005 alone.
The scam works by the enquirer sending a cheque far in excess of the requested sum, then requesting a refund for the difference. After repaying this the gîte owner will find that original cheque has bounced or is bogus.
John Owens lets out his house in Pyrénées-Orientales. On two occasions he has received suspicious enquiries by email. Each time the sender wanted to send John a sum of money far above the cost of the rental. 'On the first occasion the sender claimed he had a client who owed him ten thousand pounds', says John. 'He said he would arrange for this amount to be sent and asked if I could return the difference in cash'.
John refused to accept the booking. 'On the second occasion the sender claimed the excess money he was sending would cover the air fare, so I suggested he contact a booking agent who could book a flight and house rental using the entire amount'.
Both requests were made for out-of-season bookings, which made them attractive at first glance.' The senders also asked for non-standard lengths of stay so we built up a dialogue on email'. says John.
Philip Suter advises gîte owners to beware of the following types of email:
Enquiries that seem too good to be true.
Emails that make it clear that the enquirer has not actually looked at your property details.
Offers whereby the applicant is an 'agent' saying he has a professor coming to your country for a conference.
To Download PFF

Version click on article below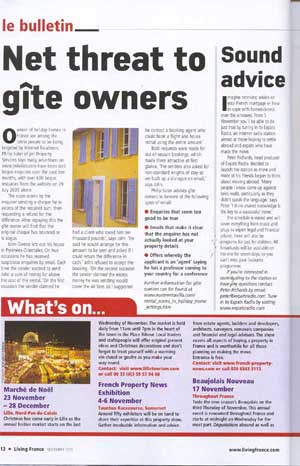 Find jml on twitter
jml Insurance | insurance4carrental

Find jml on facebook
_______________________________