euro-rentavilla.com has now been in operation over 12 Years
IRELAND is divided into 4 provinces: Connaught, Leinster, Munster and Ulster. The country has 32 counties, 26 forming the Republic of Ireland and six counties of the nine Ulster provinces in the north east, that is administered by Britain.
The country is an ideal holiday location, be it in the country or one of the towns or cities or by the sea. There are many ranges of mountains including the Wicklow Mountains, Caha Mountains, Sperrin Mountains and the Mourne mountains. These are contrasted by the rivers, Shannon and the Erne. Dublin is the capital of the Republic and other major cities include Belfast (capital of Northern Ireland), Limerick, Cork, Galway and Waterford. Communications are very good: From mainland Europe & Britain there are flights to Dublin, Belfast, Cork, Shannon, Knock and other locations.
There are car ferry (including high speed crossings) from Scotland, England, Wales and France. The road system is good and the population is not high, unless you are in a major city traffic is easy. Motorways are now being developed over several parts of the country, particularly around Dublin and up to Belfast. CLICK HERE FOR SEASONAL HOLIDAY BREAKS
The Irish hospitality is world famous and cuisine is very good, remember when you are in Ireland apart from drinking Guiness and Smithwicks, you are in the home of Irish whisky - Bushmills, Jameson & Paddy. Whilst you are sampling the excellent food and drink, remember the country is bursting with culture in traditional music, poetry and art.
Voltage: The standard electrical voltage in Ireland is 240 v AC, 50HZ. A three square pronged adapter plug and/or electric converter for appliances is required
(As also used in the UK, Malta,Cyprus, Singapore and Malaysia
)

Telephone Country Code: Republic + 353
Emergency Telephone number: pan-EU Emergency 112 Can be used in all EU Countries and it can be dialled from a locked mobile or a mobile with no sim card. ALSO 999
Northern Ireland 048(this special arrangement is much cheaper than dialing through the UK using country code +44 028)
Currency: Euro - (€)
Northern Ireland: Pound Sterling -United Kingdom Pound (£)
Population 2006: 5,725,976 (Republic - 26 Counties - 4,015,676) (Northern Ireland - 6 Counties - 1,710,300)
Land Area: 84,123 (Republic - 26 Counties - 70, 280 Km2 ) (Northern Ireland - 6 Counties - 13,843 Km2)
Driving: Drive on the LEFT
Seat Belts:
These must be worn at all times in the front and back of vehicles.
Mobile phones: It is illegal to drive a vehicle or motorbike whilst using a hand held mobile phone. Since September 2006 drivers caught using their mobile phones in a car. or about to use them face an automatic 60 fine and two penalty points on the driving licence. If the person does not pay the fine within twenty eight days the fine can be increased to up to 2,000 and penalty pointd doubled to four.
Drink and driving: Blood alcohol limit is
80mg
Foglights must only be used in fog or falling snow.
You must not use a horn between 11pm and 7am.
The 'give way' signs are red triangles with the point at the bottom and the words 'yield right of way' or 'geill sli'.
Irish Registered Cars
Road Tax: All motor vehicles must be taxed before the vehicle is used on a road and display a current circular road tax disc on the vehicle's windscreen (or holder if it a motor bike).
Insurance: All drivers must have insurance covering them to drive a motor vehicle on a public road. An up to date insurance disc must be displayed on the vehicle's windscreen.
The following vehicles do not need to by law display an insurance disc:
Trailers: All trailers must be covered by third party motor insurance.
National Car Test: Passenger cars over four years old must have a valid NCT Certificate and the NCT disc must be displayed on the windscreen.
Certificate of Roadworthiness: Goods vehicles, goods trailers with a gross weight of more than 3,500kg, ambulance, buses, minbuses and coaches that are over one year old must have a valid Certificate of Roadworthiness.
Vehicle Registration plates: These are black letters on a white background for both front and rear of the vehicle with the IRL sign incorporated into the euro sign on a blue background on the left or top left hand corner of the number plate.
Speed Limits/Distances
Over the past few years all new city, village and town signs in the Republic have had their distance stated in kms (kilometres) instead of miles. From 20th January 2005 the speed limits have also been changed to kms and instead of a typical town speed being 30 mph it is now 50 kmh. All new cars will have their speedometer s only in kilometres. You will have to remember that if you rent a car in the Republic and take it across the border that the speedometer will not show the speed in mph if it is a 2005 model.Distances and speed limits remain in mph in Northern Ireland.(There are large clear signs as you cross over reminding the driver that the speed is in "Miles per hour" ). In many instances the new speed in kms will be slightly faster than the equivalent in mph and in some slower.(The speed signs state km/h so people are not confused with the old "mph" signs and go faster than they should)
Listed below are the main changes
30 mph is now 50 km/h (towns/cities) mph Equivalent 31
40 mph is now 60 km/h (special speeds) mph equivalent 37
50 mph is now 80 km/h (regional local roads) mph Equivalent 50
60 mph is now 100 km/h(N National Roads- Green) mph Equivalent 62
70 mph is now 120 km/h (M Motorways Blue) mph Equivalen 75
Public Holidays in Ireland
Tourists visiting Ireland during public holidays would be well-advised to plan ahead when it comes to reserving accommodation as Bank Holidays / Public holidays will often fall on a Monday which gives everyone in Ireland a long three-day weekend.
Republic of Ireland * January 1 (New Year) * March 17 (St Patrick's Day) * (Good Friday - Friday before Easter) * (Easter Monday Monday after Easter) * May Bank Holiday: First Monday in May* June Bank Holiday(Spring Holiday): First Monday in June * August First Monday in August (Summer Holiday) * October (Hallowe'en) Last Monday in October * December 25 (Christmas Day) * December 26 (St Stephen's Day)
Northern Ireland * January 1 (New Year) * March 17 (St Patrick's Day Holiday) * April 14 (Good Friday) * April 17 (Easter Monday) * May 1 * May (Spring Holiday Last Monday in May) * July 12 (Battle of the Boyne) * August (Summer bank holiday Last Monday in August ) * December 25 (Christmas) * December 26 (St Stephen's Day/Boxing Day)
Fact file Dublin Click here
To ENTER THE MAIN jmlvillas.com SITE for Self catering holiday rentals in Ireland CLICK HERE
For Tips and Topics in Ireland Click Here
Don't get caught not paying the toll on the M50 in Ireland
Car hire charges could increase in Ireland - June 2009
PRTB - Renting in Ireland Click Here
Advertise your holiday vacation home property In Ireland at jmlvillas.com
the low cost villa advertising service
____________________
Belfast Airport to serve five million passengers in 2006
For years Belfast airport was not much of an "international" airport. The destinations were London, Manchester and Glasgow and the only destination outside the UK and Ireland was Amsterdam. Today that has changed. easyJet's base in Ireland is Belfast and American airlines fly there as well. John Doran who used to work for the smaller Belfast City airport has been it's Managing Director for the past seven months. To expand as the current terminal building is only capable of handling 6 million passengers, a decision will have to be made.
John Doran says " We are fortunate here in that we aren't restricted for space and the environmental constrictions are relatively low. Definitely some of the benefits of Belfast are the ease with which you can approach the airport, the speed with which you move through the terminal and the lack of overcrowding." The plans are to attract travellers from Cavan, Monaghan and Louth. He says " Within an hour's drive from here, there are 1.6 million people and and with an hour and half you're talking maybe 2.5 million".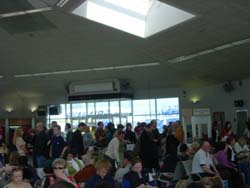 Left: The crowded departure area "A" at Dublin Airport at Easter 2006 where arriving passengers have to find the main terminal arrivals zone via people anxious to get on the outgoing flights. April 2006
See also: Aer Lingus Charging for baggage on code share flights
See Also: Dublin at Christmas
Driving in Ireland?
Use the insurance4carrental.com guide
____________________
Find jml on twitter
jml Insurance | jml villas | jml Training |insurance4carrental |Irish Property Insurance
jml villas | jml Insurance | jml Training
jml are members of the Riviera Business Club (RBC) in the Côte d'Azur France -
euro-rentavilla.com has now been in operation over 12 Years