euro-rentavilla.com has now been in operation over 15 Years
FRANCE has become for many holidaymakers an established "old friend". a country that is fondly revisited year after year. It is very easy to get to either by air, sea, the channel tunnel or road. There are now more than 6,000 kms of motorways covering the country and connecting to other European motorway networks. It is the largest country in western Europe after Russia and Germany.
It can offer a wide variety of holidays to suit all tastes. It has coastlines bordering the Channel, the North Sea, the Atlantic Ocean and the Mediterranean. There are the mountain ranges - the Alps, the Pyrenees and the attrractive valleys of the rivers Loire, Rhone and Dordogne and of course the medieval villages, castles and picturesque countryside of Brittany, Normandy, Provence, the Dordogne and the French Riviera(Cote d'Azur). Architectural and interest abounds through out the country and there are many festivals.
The French are noted for their love of good food and wines. You will normally eat well wherever you go and will find the regional speciality dishes well worth sampling.
The South of France, like some of its Mediterranean neighbours is a sunshine refuge during the depths of winter. Here you can enjoy excellent temperatures and look up to the snow covered Alps that are only a short drive away from Monaco, Nice & Cannes.
It is the only country in Europe that experiences three disticnt climates - continental - maritime and Mediterranean.The country is some 550,000 square kilometres in size.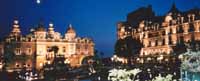 TO ENTER THE MAIN jmlvillas.com SITE for Self catering holiday rentals in France CLICK HERE
Corsica: (La Corse) has breath taking secenery,fabulous winding roads, glorious beaches and some 1000 km of dramatic coastlines.It is described as the "Isle of Beauty". It is in the Tyrrhenian Sea in in the western Mediterranean — 160 kms south west of the French Riviera and 14 km the north of Sardinia and 82 kms west of the coast of Tuscany.
There are many direct flights and you can take the car ferry from Nice, Marseille, Toulon or from Genoa, Livorno & Savona or via Sardinia. The island is has a wealth of history and the cusine is excellent. Administratively, it forms two Départements and one Region of France. Haute Corse is to the north and its capital is Bastia.
To the south is Corse du Sud with its capital in Ajaccio, which is also the regional capital and is the seat of the regional government — the Collectivité Territoriale de Corse (CTC). Thus Corsica is in the EU and the currency is the Euro.
French is the official language, but a large number of Corscians speak Corsican. The climate is a Mediterranean climate at coastal levels, but once you climb up into hills it becomes much cooler. (It goes up to approximately 9,000 feet from sea level).
Summers are long — May to October and winters much colder with snow on the mountain peaks.Monte Cinto 2706m and Monte San Petrone 1767m.
The principal towns are: Ajaccio (where Napoleon was born in 1769) It is Corsica's largest town and the administrative centre and is on the west side. There are excellent shopping facilities and plents of places for eating and drinking. There is the Musée Fesch that has the most important collection of Italian in France.
Bonifacio: It is on the southern tip of the Island and the closest town to Sardinia. A very picturesque town that is perched up high above the sea on white limestone cliffs. The towns has plenty of shady narrow streets and squares. There is a natural harbour — ideal for yachts from all over the Mediterranean.
Calvi: The town is located on a sweeping bay, fringed by the Balagne hills. It has a marina that is perfect for stopping at a local café and watching life going buy whilst enjoying a drink or two. The town has a maze of closely woven streets leading up to the citadel. There is a wide sandy beach offering watersports.
Porto Vecchio: is a charming town with a maze of narrow streets with smart shops, restaurants and bars.It is described as a sophisticated resort with some excellent beaches.It is located in the south east of the island Sartene Is high up in the hills and a few miles inland on the west side a short drive from Propriano on the coast to the north. Excellent selection of restaurants there to choose from.
Other towns: Porto — on the west, Bastia — in the north east, Cargese on the west coast and Aléria on the east coast.
Currency: Euro - (€)
Electricity Voltage: European 2 prong round plug.
Telephone Country Code: +33
Emergency Telephone number: pan-EU Emergency 112 Can be used in all EU Countries and it can be dialled from a locked mobile or a mobile with no sim card.
Other Emergency telephone numbers:
15 SAMU - Ambulance Urgencies médicales des grandes agglomerations
17 Police - Secours ou gendarmarie
18 Fire - Pompier -incendies et urgences médicales
Driving: Drive on the RIGHT
Population of France in 2006: 60,656,178 Land Area: 547,030 Km2
Changes to French registration plates from 2009 Here
General Driving Tips (some of thisinformation supplied by Holiday Autos)
Speed limits : Built-up-areas: 31mph/50kmh outside towns: 56mph/90kmh priority roads and toll-free motorways: 68mph/110kmh toll motorways: 81mph/130kmh
Drink and driving: Blood alcohol limit is 50mg - barely 1 unit of alcohol. (0.5 grams of alcolol per litre of blood) In the UK it is 0.8.
Traffic on major roads has priority. Where two major roads cross, traffic coming from the right has priority as warned by the sign 'danger priorité à droite'. Where there is no sign, give way to the right.
Traffic on a roundabout has priority and signs saying 'cedez le passage' or 'vous n'avez pas la prioritè'. In some areas the old rule of traffic entering roundabouts having priority applies so be cautious where there are no signs
If a driver flashes his headlights in France, he is generally indicating that he has priority and you should give way. This can be confusing as in the UK it usually indicates that a car is usually indicates that a car is letting you out.
Stopping for someone waiting at a zebra crossing is a fineable offence for holding up traffic. The crossings indicate where is best to cross.
Do not overtake a tram when it is stationary with passengers alighting or boarding.
Traffic lights don't show amber after red. Flashing amber means continue with caution.
It is compulsory for front and rear seat occupants to wear seat belts if fitted.
Carrying hazard warning lights or a warning triangle is compulsory. It is recommended that visitors equip their vehicle with replacement bulbs. From July 2008 A reflective vest is also complusory (like in Italy and Spain - In Spain you must carry reflective vests for all occupants).In-car alcohol tester / alcohol breathalyser: By spring 2012 it will be obligatory for all drivers in France to carry a breathalyser (éthylotest) in the glove box and not in the boot. Costs will be from around €2
Update January 2013 - From Total website - En cas de contrôle routier, le défaut de possession d'un éthylotest serait sanctionné par une amende de 11 euros à partir du 1er mars 2013. Un décret a été publié en ce sens au Journal officiel du mardi 30 octobre 2012. L'éthylotest donne un indice de la présence d'alcool dans l'air expiré. En France, Il est interdit de conduire en cas de concentration d'alcool dans l'air expiré égale ou supérieure à 0,25 milligrammes par litre. Source : service-public.fr.
If you are stopped by traffic police, the lack of having a breathalyzer will mean you will be fined 11 euros from 1 March 2013 as per the decree that was published on Tuesday, October 30, 2012. The breath test gives an indication of the presence of alcohol in the breath. In France, it is forbidden to drive when alcohol concentration in exhaled air greater than or equal to 0.25 milligrams per liter. Source: service-public.fr.
Speed Cameras:There are more and more speed cameras in France (useful web site is controleradar.org/) They usually have a warning sign a few metres or so before you see the camera and it is often set on a dual carriageway in the central reservation to capture traffic on both sides of the road. They are much nearer to ground level than those found in Britain and Ireland. They are often located on motorways on more dangerous sections particularly when the speed limit is reduced to 110 kmh. Remember if you are driving a hire car your fine will be passed onto you by the car rental company.
If you are driving on foreign plates, don't think you are safe from prosection now. A letter in the August/September 2007 edition of "The Riviera Reporter" concerned someone whose son had passed an Italian radar camera that flashed him. The fine was passed onto the French authorities to pursue via the local Prefecture. The same writer also knew of someone who had been speeding in Switzerland and the fine demand went overeas. According to The Riviera Reporter "Harmanisation and intra-EU cooperation is under way and not only fines will have to be paid, but soon points will be deducted from your licence no mater where the offence was committed. This will include offences in the UK and any other EU country as well as Switzerland"
Radar Detectors: It is illegal to use these and you can be fined up to 1,500 and lose 2 points of your license. However it is not illegal to download a map of where the speedcameras are from the French Government website www.securiteroutiere.equipment.gouv.fr
In the April /May 2011 edition of The Riviera Reporter "Time-lapse traps (radars tronçons), which measure average speed between two distant points, are being installed on major traffic arteries throughout France. This means that drivers can no longer slow down where they know there's a speed camera only to accelerate afterwards. Licence plate recognition technology will be put to full use here. In the Bordeaux region they are testing a system that can recognise lorries and coaches which have different speed limitations from passenger cars" More information Here
The February / March 2012 edition provided the following updates: Radar detectors - After much debate, devices that detect speed cameras are now formally forbidden. In theory, using a device that actively warns of cameras is now punishable with a €1500 fine and the loss of six points. It is generally accepted that passive devices which show known speed camera positions without detecting them actively are acceptable if they are dubbed "danger zone warning devices".
In 2012, 400 new fixed radar traps will be installed and there will no longer be advance-warning panels on roads equipped with them.
Changes to French registration plates from 2009 - Black on White registration plates on French cars from 2009.
From the 15th April 2009 the département number will no longer be on the French registration plate. The registration plates will no longer be black on white at the front and black on yellow at the rear as in the UK, but black on white on the front and rear as in Portugal, Ireland, Spain, Italy, Switzerland, Germany, Poland and many other European countries.
They are made up of two letters, three numbers and two letters these are separated by hyphens(e.g. DE-354-FG) and will be allocated to a vehicle for life unlike presently if the owner moves from département to département. The new plates do not contain any element that identifies where the car owner lives.The Government claimed that this would facilitate police dealing with stolen or suspect vehicles. There was opposition from the suppression of department numbers (75,62,48,06 etc) on the registration plates and there was a Government climbdown. A car owner may add the official logo of their a French département to the their new style plate together with the département number below it on the right hand side of the number plate. This does not have to be the département where the owner lives.
Second hand cars: The new regulations apply to second hand cars from the 15th June 2009 will get these as well when la carte gris (registration document) is updated with a new address or owner.
If you are moving to France from another EU country you can keep your old British, Irish, German registration plates, but you must display where relevant Contrôle Technique. However if you are caught by a speed camera, don't think your foreign plates will help you.According to Transport Minister Dominique Bussereau the British are the worst followed by the Germans. Drivers will be tracked down to their French home address or via the home country of the registration plate.
Public Holidays in France - There are eleven jours feriés
New years day (Jour de l'an) - January 1, Easter Monday (Pâques lundi), Labour Day (Fête du premier mai) - 1st May, Victory in Europe 1945(Fête de la Victoire 1945; Fête du huitième mai) - 8th May, Ascension Day (Thursday), Pentecost, July 14 - Bastille Day(Fête nationale), August 15 - Assumption of the Blessed Virgin Mary (Assomption), November 1st -All Saints Day (La Toussaint), November 11 -Armistice Day 1918 (Jour d'armistice) and December 25 - Christmas Day (Noël)
Unlike in countries like Britain and Ireland, if the public holiday falls on a weekend then there is no additional daqys holiday given
Some useful translation
Petrol Diesel & Service Sations
Service Station - la station service
Motorway Services - une aire de service
Rest area on motorway (Toilets, parking etc) - une aire de repos
Petrol - l'essence
Unleaded petrol - l'essence sans plomb
Diesel - le gasoil
To fill it up with fuel - faire le plein
Self service - libre-service
Check the tyre pressure - Vérifier la pression de pneus
Tyre checking station - serice de conflage
Roads (les routes)
Motorway - l'autoroute (A)
A-Road - la route nationale (N)
B-Road - la route départementale (D)
Toll Road - le péage
Emergency phone - une borne d'appel d'urgence
Traffic Lights - les feux
©jmlpropertyservices06/06/-04/09
Driving in France?
Use the insurance4carrental.com guide
TO ENTER THE MAIN jmlvillas.com SITE for Self catering holiday rentals in Corsica CLICK HERE
Looking for more information on France Click on the flag below
How did the South of France look in the 1920s and 1960s? Click Here for photos
Nostalgia in France - Photos of the 1960's and 1970's in France - Click Here
Buying or selling a car in France? Click Here for our Factfile
Buying a property in France? Click Here for our Factfile
Taxation in France Click Here for our Factfile
Nice and the South of France in January Click Here for this article
__________________________________________
Looking for a hotel in France ? - Use the search facility below
Advertise your holiday vacation home property In France and Corsica at jmlvillas.com (+ FREE advertising on Villa-rental-France.com and our French language site Euro villa location.com and if the property is in the South of France - Cote dazur rental.com)
the low cost villa advertising service
Find jml on twitter
jml Insurance | jml villas | jml Training |insurance4carrental | Irish Property Insurance Plus
jml villas | jml Insurance | jml Training
jml are members of the Riviera Business Club (RBC) in the Côte d'Azur France -
euro-rentavilla.com has now been in operation over 15 Years