Bucks Free Press Property Section - November 2001
Holiday home website to help you get away with it
A website designed for holiday home owners to advertise villas in the sun has been launched by a former director of Aitchisons/Tennysons letting department.
Philip Suter believes his new venture is one of only about 50 worldwide dedicated to helping villa owners find suitable short term holiday lets.
The site includes a description of the property, price location and pictures of the inside and outside. According to Philip, most of the offline competition charge £500 a year to advertise in a specialist format.
A listing on his site costs £95 a year – move quickly and lob off your ad before the end of November and first six months can be free.
Philip is now in the process of having the website euro-rentavilla.com upgraded. He is expecting to see a trial run of the improved site next week but in the meantime the basic version is already attracting - customers.
Currently it is advertised in English language publications in France, Belgium, Ireland, Britain and Spain and in the easyJet in-flight magazine.
The total number of properties on the list now tops 50 and includes homes in France, Ireland, Spain, Malta and Italy.
Philip explained "At the moment all the details are in English but we're intending to go multi-lingual.
We want to build up the listings ready for the peak period in January and February when people select their holiday destinations".
"One area where we are short of properties is Britain and Ireland".
"We want many more holiday homes for the home market"
Philip sums up: "The site is easy to use and quick to download and gimmicks have been avoided. Payment is easy. Credit cards are accepted".
The company can be contacted on euro-rentavilla.com or on 01494 XXXX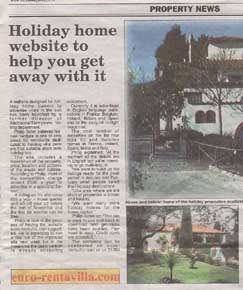 Click on image to enlarge
Find jml on twitter
jml Insurance | jml villas |insurance4carrental | Irish Property Insurance Plus

Find jml on facebook
_______________________________